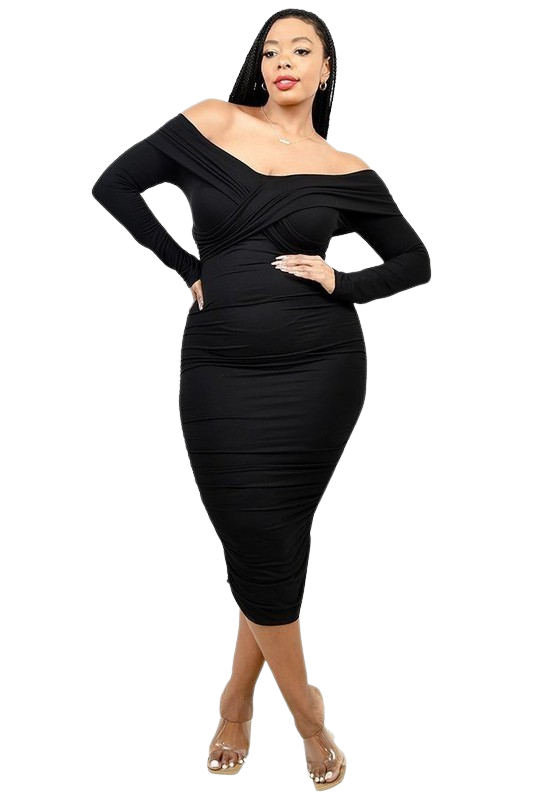 Plus Size Dresses | Cross Shoulder Band Dress from Discount Diva
SKU DDS-FG-GIB-GD8156PL-5686
Product Details
Feminine, modern, and sexy. The Off Shoulder Cross Band Dress is a versatile dress that you'll love in every season. The beautiful dress features a shirred front and back with off-the-shoulder cross band detailing in the front. The elegant shirring accentuates your shape, the long sleeves are flattering on your arms and the off-the-shoulder look is sure to turn heads when you wear it out. The stretch fabric allows for a comfortable fit that will give you plenty of movement when dancing or going out. Whether you're going to work or out on the town, this dress will become one of your favorites. Get ready to shine in this beautifully detailed and sexy dress. Sale item - All sales are final.
Make Discount Diva Styles your one-stop shop for all your apparel needs
.Your look starts with shopping for fashions at Discount Diva Styles!
TrulyAmazing Fashions – Discount Diva Styles-your Style,
Your Stylemaker.www.discountdivastyles.com – Stay in tune with fashion!
Trendy Options with Style! Be dressed in Smart, deliberate, versatile, and modern Fashions.
#discountdiva #divastyles #fashionstyles Discount Diva Styles
Save this product for later